Setebaid Summer Camp News
Summer Camp is much more than a one-week experience, it's a lifestyle!
Check this page often to keep informed on exciting news & upcoming events from your favorite T1D Camp!
28 March 2017

Camp Setebaid Electives

This year at Camp Setebaid at Swatara, teen campers can rank three electives in preferred order for the two activities they'll be involved in all week. We're going to be building on skills that they've learned in school and prior camp years. These programs are next-level.

Pinterest This

Gimp and friendship bracelets are fun, but we're offering a more in-depth look at crafting this year. We're making some Pinterest hits like watercolor mugs and galaxy shirts. All of the projects will be coming home, along with the skills to make them.

There Will Be Mud

Spend two days conquering the ropes courses, hiking the trails, seeing the wildlife, and learn how to build a fire and shelter in the great outdoors. After this class, you'll be ready to help build a campfire anytime someone wants to sing some camp songs. (limited to 24 on a first come, first serve basis with additional cost, $35)

A League Of Their Own

Add some variety to your typical workout. Try your hand (or rather feet!) at yoga, calisthenics, archery, and soccer. No matter how hardcore the workout, there's always time for a game or two of ultimate frisbee.

Standing Room Only

Keep camp songs alive – learn a variety of vocal exercises, warm-ups, and singing techniques and take a look at rhythm, dance, and improve.

Physics To The Nye-th Degree

If you ever watched The Science Guy, you might know how cool hands on experimentation can be. In this elective we're building air-pressure bottle rockets and other projects to compete with your peers.
NOTE: Sometimes weather conditions and the like make these elective subject to change. While the details of these descriptions aren't guaranteed, we'll try our hardest to run them as presented, and have similar rain-day plans.
---
19 February 2017

Camp Registration

For questions on camp programming, the registration process, or help with funding for camp, please contact the camp office at 570-524-9090 or info@setebaidservices.org.

Returning Camp Families: If you experience a problem accessing your camper profile, please contact the office for assistance.
---
27 March 2017

Setebaid Campetition

We are so excited to tell you about our new game!

You play it before you get to camp. Then, on check-in day, all the points you've collected will be added to the points of your cabin mates. The campers in the winning cabin, the cabin with the most Campetition points, will all be awarded prestigious VIC (Very Important Camper) status.

In addition, all the points you earn will count in the Color Wars team event. And we all know how points matter in Color Wars!
 

What's this VIC Status all about?

It means you're pretty darn special. For one, no plain old camper ID for you. You, and every camper in the winning cabin, will get a personalized photo ID badge that you get to wear all week and keep as a souvenir. Plus, this badge will secure for you and the other lucky VICs exclusive admission to the gala party area that will be poolside on Thursday. There, while the rest of camp hungrily looks on, you VICs will be served delicious ice cream, soda, and other yummy special treats by the CITs.

You don't want to miss out on this!!

So, campers, you better get started! Check out the Game Rules, start your team, and begin collecting those points by clicking here.

---
15 November 2016

Create Camp Smiles With AmazonSmile

Visit https://smile.amazon.com/, login with your amazon account information, and select "Setebaid Services Inc" to have Amazon donate to T1D Camp. Shop normally throughout the holiday with AmazonSmile to support children & teens with diabetes. Thank you!
---
6 August 2016

Counselors Wanted!

Setebaid is always looking for amazing people to make a positive impact in campers' lives. Fill out our Staff Interest Form under our volunteers page to make a difference in the life of a child.
---
6 July 2016

Diabetes Family Conference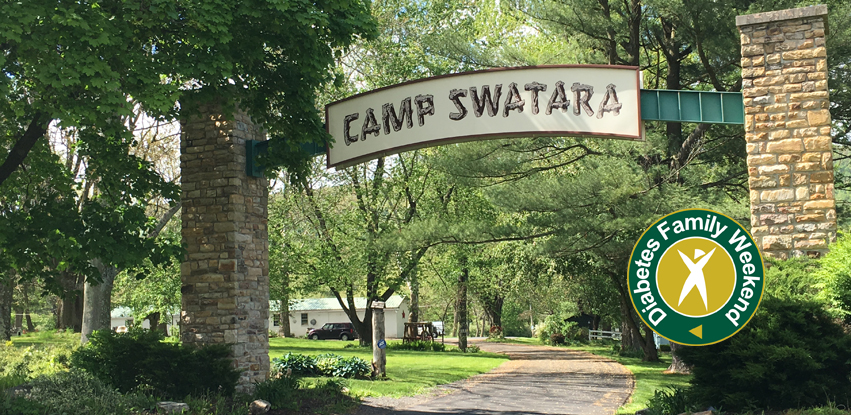 Save the date! Camp Setebaid's Diabetes Family Conference on October 7th. For program description and speaker bios, check out the Diabetes Family Conference page. [Coming Soon] To be contacted when conference information is available, you can Request Info.
---
19 December 2016

Dear Setebaid...

I want to thank each and every one who made Camp Setebaid possible and for giving Frankie a truly life-altering experience! Discovering he had diabetes just as his grandmother's cancer had returned and his home was severely damaged in Hurricane Sandy had turned Frankie's world upside down. Frankie went from a relaxed, carefree and happy-go-lucky kid to a quiet and withdrawn young man. His friends didn't understand diabetes and Frankie's diabetes served as the catalyst for friends going in other directions. Frankie felt very alone and isolated. It was a very difficult two years for him.

Thus I looked to surround Frankie with people who would love him, support him, encourage him, and understand him. He served as a Youth Ambassador for diabetes, which was a positive experience for him! I learned about Camp Setebaid at Swatara and knew it would be a great way for him to just get away and be a kid again and get his smile back.

Words cannot express the joy and relief I felt looking at the gallery of pictures while Frankie was at camp. I saw his smile and my little man was relaxed and happy. I saw the sparkle he used to have return to his eyes! I witnessed Frankie enjoying life; he was carefree again; for that I will be forever grateful. I saw the child I knew before life became so hard for him—before diabetes. It was such a deeply moving feeling.

I knew for a fact Frankie felt the same when he came home from camp. I asked him what was his favorite part of camp. One might have expected to hear the ropes course, swimming, hiking or the general high-jinks teenagers play.  Frankie's response: "My favorite part of camp was feeling normal and like I belonged again. It's been a really long time since I felt like that!" Those were such powerful words to me and it was so evident to both of us in that moment that his camp experience was a life-changing, transformational experience. That one sentence summed it all up!

So…thank you to everyone, the staff, the volunteers, and the donors, who make Setebaid camps possible. I am eternally grateful for the gift you have given my son! Please continue to work the transformational magic of Camp Setebaid.

-Rosemarie
---
13 July 2016

Setebaid Walk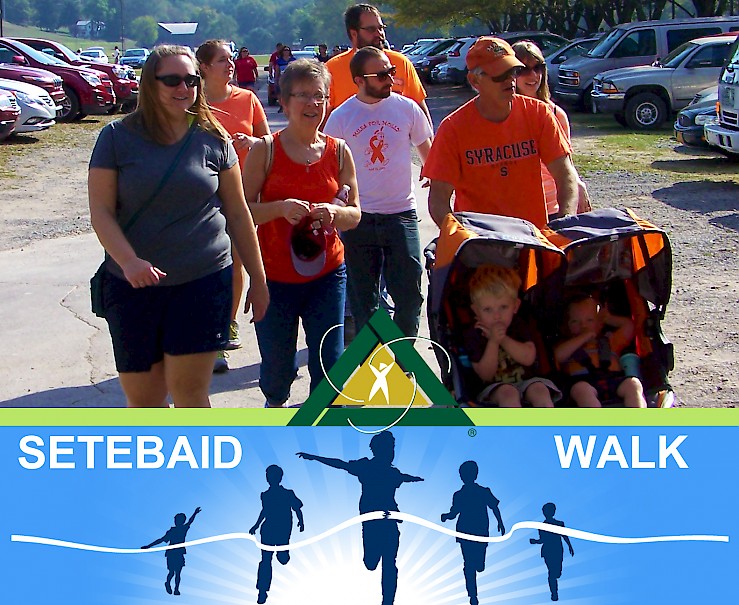 The Setebaid Walk has officially started! Help campers attend T1D Camp by visiting http://setebaidwalk.org/ and either supporting a walk team or starting your own! Then, if you can, join us to walk & represent your team at Knoebels Amusement Resort on September 16th!
---
16 September 2017

Setebaid Family Day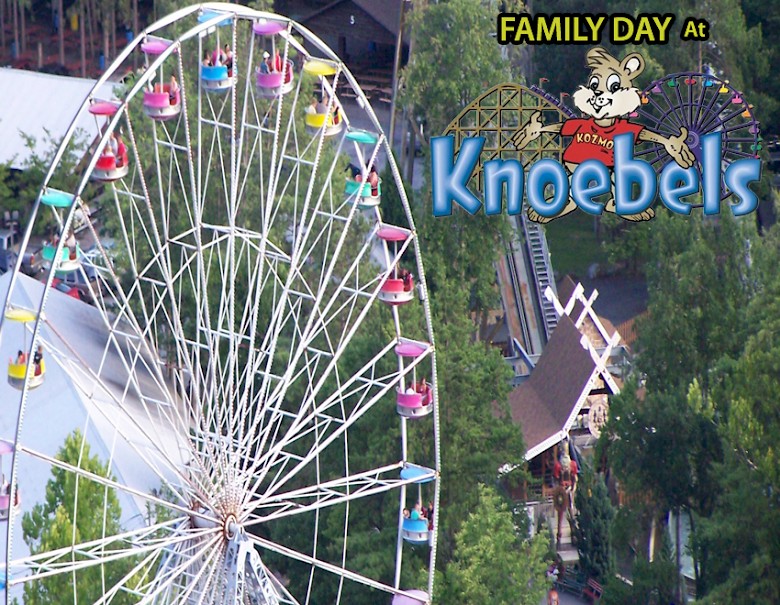 Reunited at last! T1D Camp last only a week, and its just not enough time with friends!
Family Day is an opportunity to catch up with camp buddies, as well as spend a day at Knoebels Amusement Resort. On September 17th, Setebaid will have a pavilion reserved until 3 PM, and lunch will be served from 11:30 AM to 12:30 PM. When you're done with lunch, enjoy yourself in the park! Families, friends, alumni, volunteers, and future campers are invited to join!
Click Here to register for Family Day!
---
17 October 2017

Boscov's Fundraiser for Camp on October 17th!

Join Setebaid & help raise money for camp through Boscov's Friends Helping Friends day on October 17th! Purchase a shopping pass for $5 & receive 25% off selected items & be entered into raffles for prizes!

Contact the office at (570) 524-9090 or info@setebaidservices.org for information on how to become involved!
(Ticket will have 2017 date)
---
25 April 2016

The Future Diabetes Camp Showed Me

Once a camp & now an amazing counselor, Liz writes about the impact T1D Camp has had on her life. Click here to read her fantastic article!
---
6 February 2016

Check Out Camp On Social Media!

Follow us on Facebook & Twitter for fun articles & information about our organization!
---